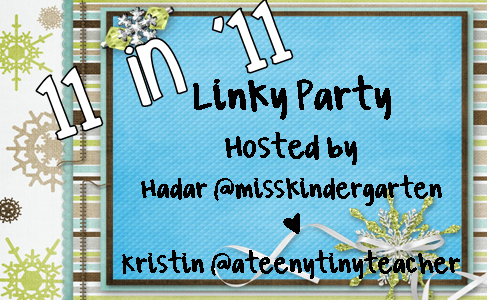 A Teeny Tiny Teacher
is hosting 11 in 11 Linky Party!! Check it out!!
11. Favorite movie you watched
Breaking Dawn Part 1
There were several others I really liked such as Harry Potter, The Help, Hangover Pt.2
10. Favorite TV series
Once Upon a Time - Abc
9. Favorite restaurant
KoFusion. It's a trendy sushi bar in town. On Sunday and Monday nights they have $1 sushi. My favorites are the Big Rolls and the Coconut Shrimp. Yum!!
8. Favorite new thing you tried
I would have to say blogging or pinteresting. Just sharing ideas through the internet. Putting myself and my ideas online is definitely challenging at times. But it has been worth it!
7. Favorite gift you received
My Vera Bradley carry on duffel. I got several other things that I liked to...like a vacuum I desperately needed.
6. Favorite Thing you Pinned
Um....
Haha. This is a hard question - because I love everything I pin!
5. Favorite blog post
I liked my post where I include pictures of all these cute things I found on Etsy. :D
4. Favorite accomplishment
Does getting engaged count? I'd say having 100% of my kids pass the benchmark would be another one.
3. Favorite picture
This is a picture of my little brother and I at Yellowstone over the summer. It means a lot to me because it represents the special time I get to spend with my family. My family lives in Wyoming, and I don't get to see them very often. Typically only once a year. So this is really special.
2. Favorite memory
My favorite memory has got to be getting engaged to Nathan Eimer. The most wonderful man in the world!!
1. Goal for 2012
In life: It might sound typical. But I really want to change my lifestyle so that fitness and healthy eating are an everyday occurrence. Not just to lose weight, but to become healthier.
In school: I want to become better organized with my grade keeping. I let it go more than I should. Just more organized in general would be great.
Happy Pinning!! I'm off to another Christmas party!